The boyfriend took today off from work to stay home with me and keep me company. I'm still really bad with this whole being-by-myself-thing. So we did a lot of fun things like laundry, cleaning and grocery shopping (well, he went grocery shopping while I stayed home and edited/posted stuff. Go work!). Our apartment is spic and span. And so are our clothes. Win.
This weekend has nothing big or exciting planned, and I am the MOST content with this. See, I feel like everything's been gogogo for a while now, and I feel like my bod-ay's been like, "Girl. Slow the eff down." So I am. I'm working a ton at the Gap, but I'm going to sleep and relax the few hours I'm not there. Sa-weet.
I straight up need this shirt to be in my life ASAP: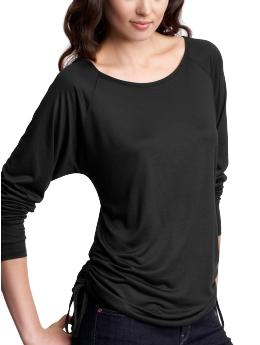 Don't be surprised if you see that in my pictures sometime soon. It's pretty fly. And I'm OBSESSED with dolman sleeves. It's a very flattering look.
What I really need are some new sneaks to keep me looking fresh at the gym. I kid. I'm not a stylish gym person. I'm very much so the t-shirt and Soffe shorts girl who sweats a lot. That's actually not why I need sneakers. I need new ones because my old ones are getting...well...old. I really want to try something like these:
They're supposed to make you feel "free" and get you closer to barefoot running (which is apparently loads better for you). But, well, they kind of scare me. There was a girl in CVS behind me today wearing them. And they're just kind of weird. I think I need to warm up to them first. So I'll probably get something more like these:
Yeah. Green's my favorite color. And the lighter-weight gets me a step closer to the barefoot running. It's a trade-off.
The Bruins and the Celtics are both on right now, but I'm going to try to pull the boyfriend away so we can cuddle up and watch a movie. Wish me luck.