The other night I cooked dinner. Like, straight through and through cooked a meal. I was quite proud of myself. It tasted pretty darn good as well. So here's the recipe.
Cream of Mushroom Baked Chicken
2-4 boneless, skinless chicken breasts (
I used bone-in, and subsequently had to cook them a teeny bit longer. It's up to you
)
1-2 cans cream of mushroom soup
Salt, pepper and garlic powder
Preheat oven to 375 degrees.
Season both sides of the chicken using salt, pepper and garlic powder. Place seasoned chicken into a deep baking dish. Slice onion and spread it over the chicken, and then place two pats of butter on each breast. Top breasts with cream of mushroom soup (
it's up to you how much soup you want to use. I used one can for four breasts, but we didn't want too much sauce. If you want more sauce, use more soup
).
Bake covered for 45 minutes (
or until the chicken's cooked all the way
).
We finished off this dish with quinoa, which is a type of grain that's small and ridiculously good. If we had more sauce I think I'd do white rice with it to soak up some more of the sauce.
Also, you'll be happy to know we made it to Chinatown this weekend. The boyfriend took pictures and wrote all about it, so if you want to see what happened there, check out
his blog post
.
My shift on Saturday afternoon got cut, so I had the luxury of lounging around for the afternoon like a normal person. And I took an epic two hour nap in the middle of the day. And. It. Was. Glorious. Maybe one day I'll be a normal person for reals.
Oh, but when I went into work on Sunday we were having 40% off of our sale items. Dead serious. An additional 40% off of the sale price. So I got this sa-weet jacket for practically no dollahs.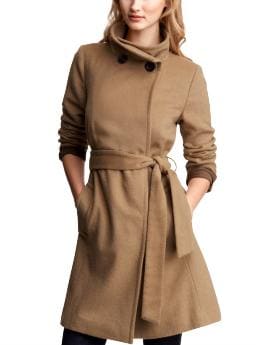 In case you were wondering, sometimes things on sale in the stores are cheaper than they are online. So even though online says $69.99, I did not pay nearly that much. In fact, I paid under 20 dollah. Awesome.
Anyway, happy Monday!