So it's high time for a NYE post. We went up to New Hampshire (specifically, Sunapee) to stay at a friend's family house. We started off at the
liquor store
and continued our way up north. We settled in, did a giant grocery run for lunch and commenced to having a good time.
It was potluck style, so I baked peanut butter swirl brownies (
recipe to come
); there was everything from teriyaki-style chicken wings to meatballs. It was amazing.
We also had a party in a bag. And we subsequently threw 80% of it on Becca.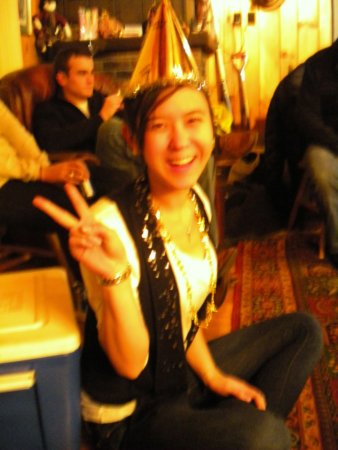 Classic.
Copycat.
There wasn't a whole lot for us to decorate, so we decorated the ceiling fan.
It was also this kid's birthday. Double celebration!
We got a pinata. It was filled with Jolly Ranchers. And nips. We're adults. It's ok.
Here's what was left after it after we let Nick at it...
Ceremonial ripping...since it didn't actually break open for us.
Oh yeah, and I got seduced by our lovely hostess, Anna.
So there was NYE in a nutshell! We didn't have a TV, so we didn't watch the ball drop. We actually had to have a countdown going on a friend's phone through an app. Yeah, we're cool kids.
We went around the room and said our best moments of 2010, and it was nice to sit back and reflect on the year that we had. I'm so happy that I've been graced with all of these lovely people's presence over the past year. It's been a wonderful addition to my life.
Goal for next year's NYE: actually break the pinata. And not lose my nip 10 minutes after getting it.